Get to racing, dood!
We're excited to have the very first official Speed Run Contest for Rodea the Sky Soldier up and running!

This #RodeaRace is a North American contest that will put the best speed runners to the test. Who will be the ultimate flier? Who's the coolest sky soldier? Check out the rest of this post and then click here to enter the #RodeaRace!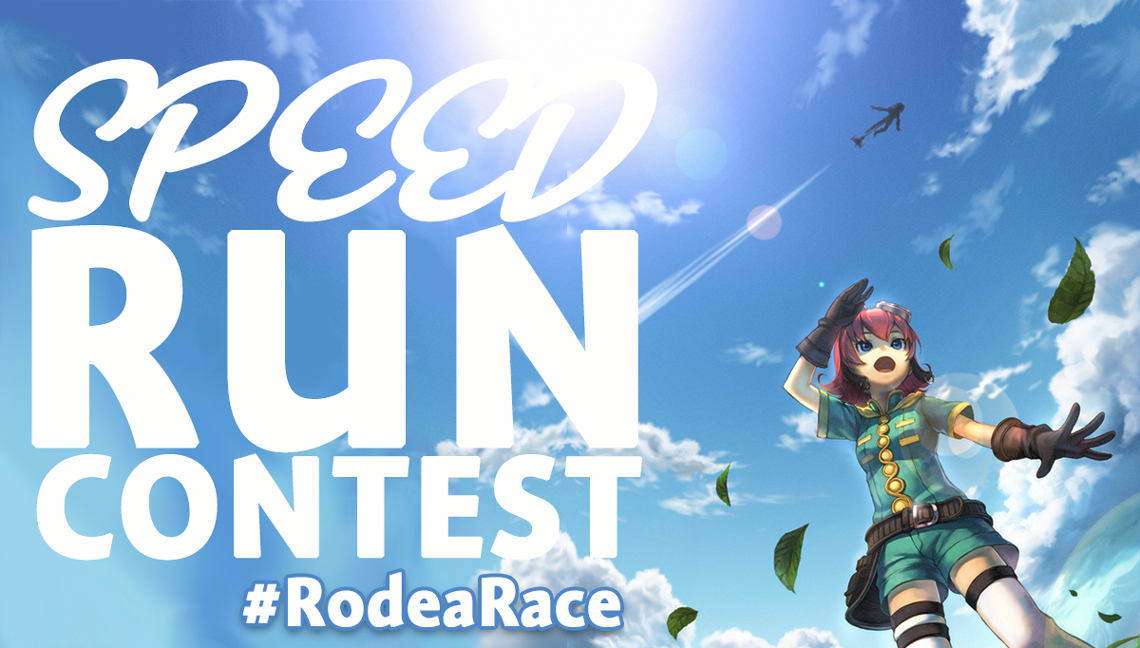 About:
We thought it would be fun to see how fast or adventurously all you awesome doods were able to complete the first level of Rodea the Sky Soldier, and what better way than by having a contest? Make sure to tag all your comments about the contest with #RodeaRace to keep up with the conversation. We're hoping to hear and see lots of awesome stuff!
We know that not everyone is a practiced speed runner though, so we've included a couple other ways to win a prize in this #RodeaRace. Think you're the flyest? Well, show us your trapeze skills by doing some cool maneuvers and you could win our Style Prize, or enter your race on our Facebook form and get your friends to vote to win the People's Choice Award! Oh, you want to know what the prizes are besides our undying amazement? Well, here's the prize list:
1st place for speed on Wii U: $50 NISA Online Store gift card. (Fastest level time.)
1st place for speed on Wii: $50 NISA Online Store gift card. (Fastest level time.)
Style Winner: $50 NISA Online Store gift card. (The video with that we choose as our favorite - the more acrobatics the better!)
People's Choice Winner: $50 NISA Online Store gift card. (Most votes on our Facebook page)

Timeline:
The #RodeaRace ends December 31th, 2015 11:59 PM EST. Voting for the People's Choice Winner will close January 15, 2016. Winners will be announced on January 18th, 2016.
To enter:
Record a complete run of level 1 of

Rodea the Sky Soldier

on either the Wii or Wii U

Upload your video to YouTube and go to

our Facebook tab to complete the entry form, or post your video on Facebook or Twitter using #RodeaRace and tagging our Facebook or Twitter account. (Note: you must be following us on Twitter to be alerted as the winner via that platform)

Entrant must be 18 years of age or older

Entrant must have a valid email address
Additional rules:
Entries may be recorded and archived on Twitch, or directly uploaded to YouTube.

If NIS America has sufficient proof that the speed run was not recorded on a legitimate version of Rodea the Sky Soldier, that the integrity of the video was compromised by editing, or that the user intentially exploited a bug, the entry may be disqualified.
Complete contest rules may be found on our contest rules page.
This is the first contest of this kind for Rodea the Sky Soldier so we hope you'll have fun! Go enter the contest right here, and be sure to check out all the competition and vote for your favorite run!
If you have questions or want more information on the contest, please feel free to contact us on our Facebook page, www.facebook.com/nisamericainc.
-----WINNER UPDATE-----
1st place for speed on Wii U: Brian K
1st place for speed on Wii: Dan V
Style Winner: Uncontested
People's Choice Winner: Pure Khaos