Kal-el Albus and his sister Ariel are preparing to attend the Flight Division of Cadaques Military High School, located on the floating island of Isla. Backed by the Balsteros Republic, the Kingdom of Qi, and the Benares Empire, the people aboard Isla will be embarking on a voyage to search for the fabled "End of the Sky."
Over the course of this voyage, Kal-el forges new friendships with his fellow cadets and even falls in love with a young woman named Claire Cruz. But Kal-el has other reasons for being on Isla, for he is none other than Karl La Hire, the former crown prince of the Balsteros Empire who lost his family and title six years ago in the Wind Revolution led by the Wind Priestess, Nina Viento.
Knowing that Nina Viento is aboard Isla, Kal-el prepares to exact his revenge upon her, but a surprise attack by the fierce Sky Clan puts this plan on hold. Though Kal-el and his fellow cadets take to the skies to fight for love, the horrors of war start to take their toll as true identities are revealed, loyalties are tested, and the bonds of love and friendship begin to waver.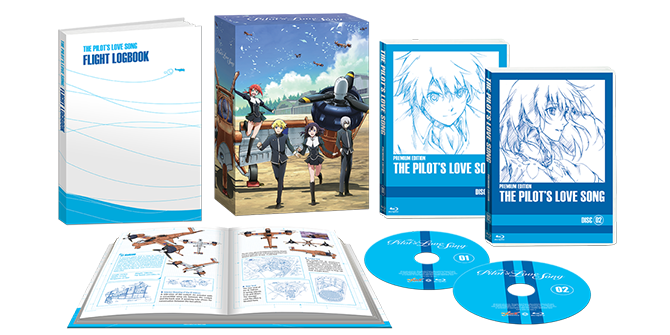 The Pilots Love Song
Complete Premium Edition
Release date: September 22, 2015
Genre: Action, Drama, School Life
Age rating: Teen
Media: 2 Blu-ray disc set
Total of 13 episodes
Runtime: 308 minutes
Original Japanese voice acting with English subtitles
Bonus content: Clean opening and endings, plus extended episode previews
Premium box with a full color, 64-page hardcover art book with detailed character info, interviews with cast members, episode guides and gorgeous full color illustrations
*This product is for sale and use on playback units only within licensed territories. It is not intended to function in any other region.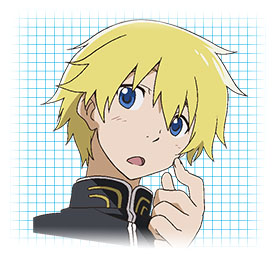 Kal-el Albus (Karl La Hire)
The crown prince of the former Balsteros Empire. At the age of nine, Kal-el lost everything during the Wind Revolution. Because of this, he bears an intense hatred toward Nina Viento, the figurehead of the Wind Revolution. After his mother is taken away from him, he is taken in by Michael Albus and raised as his own son.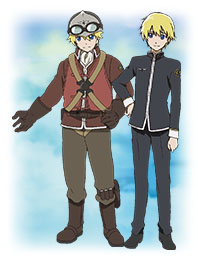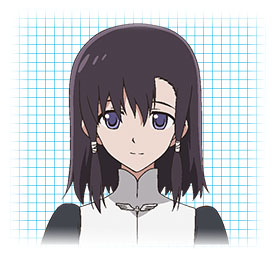 Claire Cruz
A girl whom Kal-el meets on Isla. Her timid behavior is largely a result of her upbringing. After partnering with Kal-el and befriending the other cadets in the Centezual class, she gradually regains her bright, sunny disposition. However, she harbors a dark secret...
Ariel Albus
A bright and lively young woman...though it might be more accurate to call her willful. She is the daughter of Michael Albus and little sister to his adopted son, Kal-el. Because Ariel and Kal-el's birthdays are only one day apart, they often argue over which of them is older.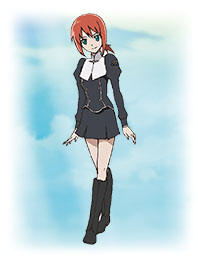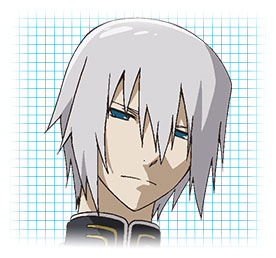 Ignacio Axis
A lone wolf who distances himself from the other cadets in the Centezual class. Ignacio seems particularly antagonistic toward Kal-el, much to his chagrin. His poor marksmanship during training exercises belies his deadly aim with a rifle.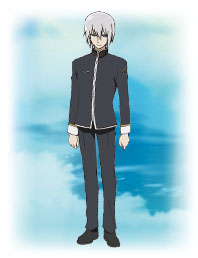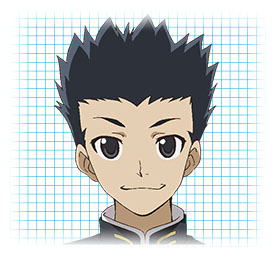 Noriaki Kashiwabara
A cadet from the Kingdom of Qi. As a commoner, he's always cheerful and is easily excited. In actuality, he's more cowardly than his peers.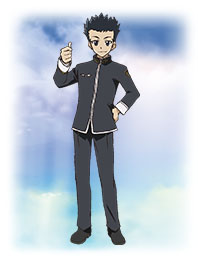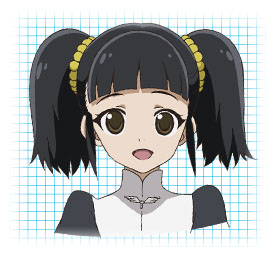 Nanako Hanasaki
Nanako is from the Kingdom of Qi, like Noriaki. Perhaps because of this, the two are remarkably close, and even pair up together when choosing partners for flight training.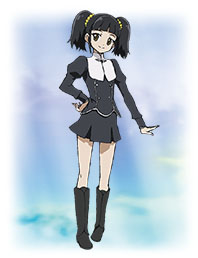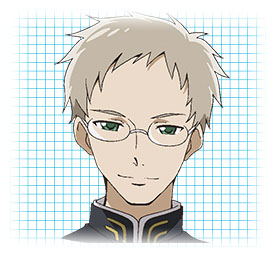 Benjamin Sharif
A boy from the nation of Benares. As indicated by his glasses and wide forehead, he is highly intelligent and has the highest written test scores of all the Flight Division cadets.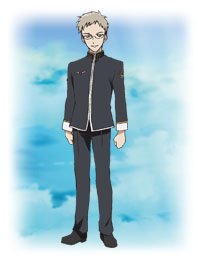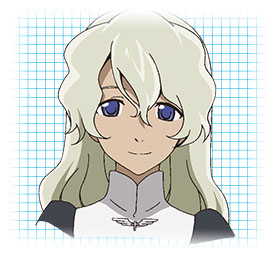 Sharon Morcoz
Like Benji, Sharon is a native of Benares. She has a strong but gentle personality that never wavers, even during times of distress. When the Sky Clan launches their assault on Escorial airspace, she takes the lead against their ground troops.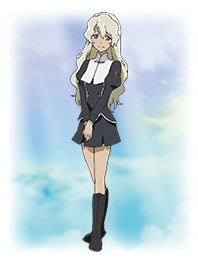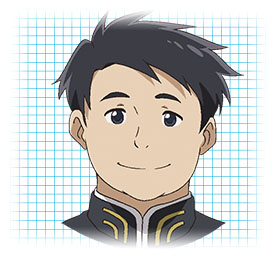 Mitsuo Fukuhara
A cadet from the Kingdom of Qi, Mitsuo has a shy but kind personality. He's also a huge military otaku and can differentiate between plane types just by looking at them.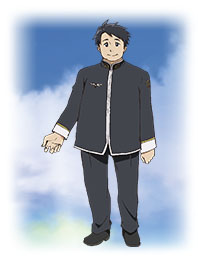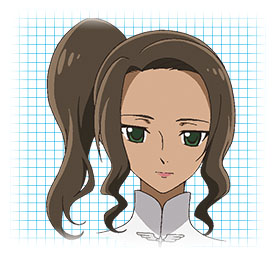 Chiharu de Lucia
Due to her gaudy makeup and laidback way of talking, people assume Chiharu has a carefree personality. In actuality, she's putting on a front to hide her own lack of confidence.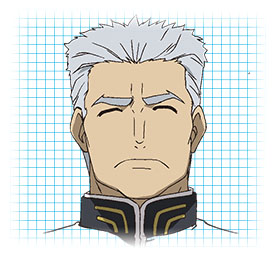 Wolfgang Baumann
One of Kal-el's fellow cadets who originally hails from Benares. His powerfully built, muscular body and quiet nature make him appear older than he truly is, despite being the same age as his peers. His antiquated way of speaking is rather charming.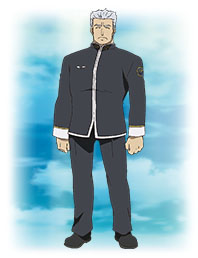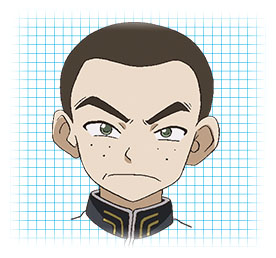 Marco Santos
Another one of Kal-el's fellow cadets in the Centezual class. He refers to his partner Wolfgang as his "main man" and idolizes him.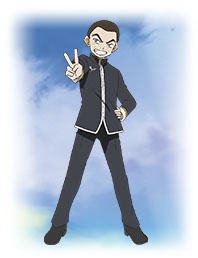 Staff
Original Story
Koroku Inumura
(Published by Shogakukan under their GAGAGA Bunko label)
Original Character Design
Haruyuki Morisawa
Director
Toshimasa Suzuki
Series Composition
Shinichi Inozume
Military Affairs Research
Takaaki Suzuki
Character Design / Animation Supervision
Hiroki Harada
Key Mechanical Design
Seiichi Nakatani
Effect Animation
Takashi Hashimoto
Art Director
Yasutada Kato
Color Design
Mitsuko Sekimoto
Director of Photography
Kohei Tanada
Editor
Kumiko Sakamoto
3D Director
Hirotsugu Shimoyama
CGI Producer
Atsuo Nozaki
Music
Kow Otani
Sound Director
Kazuya Tanaka
Animation Production
TMS ENTERTAINMENT CO., LTD.
Production
Toaru Hikuushiheno Koiuta Project
Japanese Cast
Kal-el Albus
Natsuki Hanae
Claire Cruz
Aoi Yuki
Ariel Albus
Ayana Taketatsu
Ignacio Axis
Kaito Ishikawa
Noriaki Kashiwabara
Hiro Shimono
Benjamin Sharif
Shinnosuke Tachibana
Mitsuo Fukuhara
Shinya Hamazoe
Chiharu de Lucia
Asami Tano
Sharon Morcoz
Saori Hayami
Nanako Hanasaki
Yoshino Nanjo
Wolfgang Baumann
Teruyuki Tanzawa