Story Introduction
Westernization, a time when humans and spirits coexist—
The Modernization of Japan has begun. The Ministry of Spirit Affairs is established to resolve mysterious incidents involving the nation's spirits. This ministry consists of representatives from both the human and spirit worlds. Zakuro, Susukihotaru, Bonbori, and Hozuki are all half-spirits (a hybrid between human and spirit) who have been partnered with the second lieutenants Kei, Riken, and Ganryu. These half-spirit girls and the male second lieutenants are all assigned to Spirit Affairs in an effort to join forces and carry out any tasks given to them!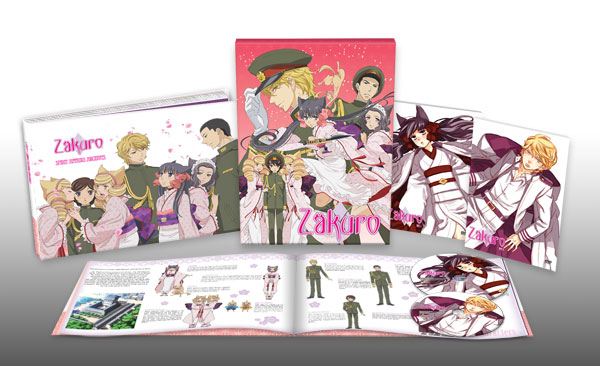 Complete Series Premium Edition
Release Date: June 12, 2012
Genre: Romantic Comedy, Supernatural, Historical, Action
Age Rating: Teen
2 DVD disc set
Total of 13 episodes
Approximately 25 min/episode
Features original Japanese voice acting / English Subtitles
Premium box with bonus item: 36-page art book (approx. 11" x 7") with episode guides, character profiles, cast interviews, an interview with Zakuro creator Lily Hoshino, and exclusive artwork. You will get to know more about the perspectives of the main vocal cast by reading their interviews! Find out what they thought about their characters and the experiences they had by being a part of Zakuro!
1 clean opening, 3 clean endings, and 2 original picture stories
*This product is for sale and use on playback units only within licensed territories. It is not intended to function in any other region.
Zakuro
Voiced by: Mai Nakahara
A strong-minded tomboy, Zakuro is the lead spirit representative in the Ministry of Spirit Affairs. Her combat efficiency is, by far, the greatest among all the Ministry's members. She cares deeply for her friends and will do anything in her power to protect them.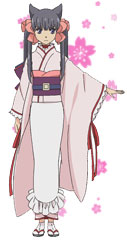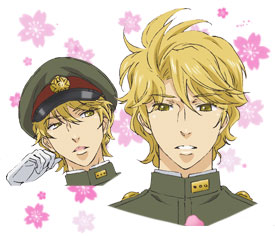 Kei Agemaki
Voiced by: Takahiro Sakurai
A second lieutenant in the Imperial Army and Zakuro's partner at Spirit Affairs. Handsome and cultured, his elegant words capture the hearts of many women. He has a strong sense of justice, but a crippling fear of spirits.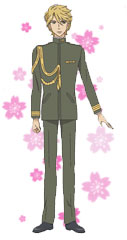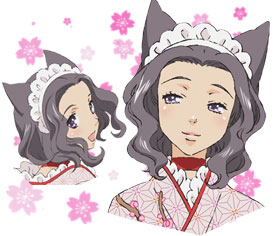 Susukihotaru
Voiced by: Kana Hanazawa
Although chosen to be a spirit representative for the Ministry of Spirit Affairs, Susukihotaru is a shy half-spirit. She was raised with Zakuro, who means the world to her. She acts as the maternal figure for Spirit Affairs. She also has the power to empathize with objects and people via physical contact.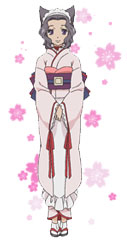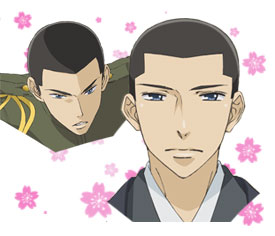 Riken Yoshinokazura
Voiced by: Satoshi Hino
A second lieutenant in the Imperial Army chosen to be a human representative for the Ministry of Spirit Affairs. He is Susukihotaru's partner. Straight-faced and stoic, he may seem intimidating at a glance, but he is actually very gentle and reliable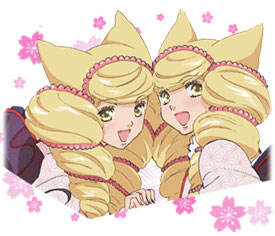 Bonbori & Hozuki
Voiced by: Aki Toyosaki & Yui Horie
These cheerful twins were chosen to be spirit representatives for the Ministry of Spirit Affairs. Bonbori is the older of the two and always optimistic, while Hozuki is the younger, more reactionary one. Despite their dark past, they always smile and enjoy playing. They specialize in magic petals that can attach to and track the locations of others.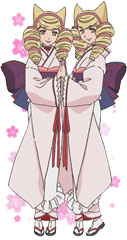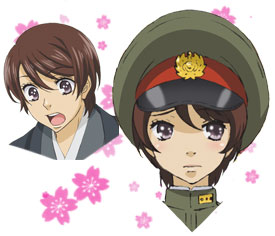 Ganryu Hanakiri
Voiced by: Yuki Kaji
The youngest second lieutenant in the Imperial Army. Once at Spirit Affairs, he is partnered with Bonbori and Hozuki. Even though he may not be very tall, he is very intelligent and carries the ambition to become the youngest field marshal in history.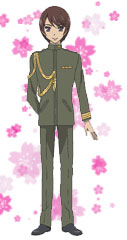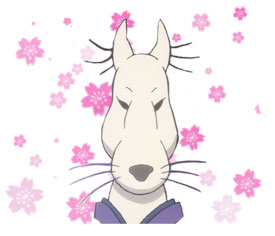 Kushimatsu
Voiced by: Kazue Komiya
A fox spirit that accepts cases from those seeking the aid of the Ministry of Spirit Affairs. She is the one who initially brought Zakuro, Susukihotaru, and Bonbori and Hozuki together, becoming not unlike their mother. She watches over her half-spirit girls with loving warmth.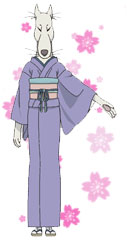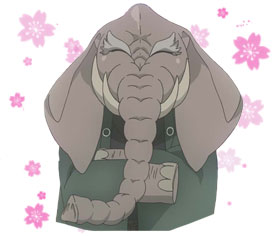 Amaryoju
Voiced by: Akihiko Ishizumi
The spirit acting as the chief director of the Ministry of Spirit Affairs. He is the one who offered sanctuary to Kushimatsu and the other girls. He always remains calm to assess situations and is able to speak to human officials on equal grounds.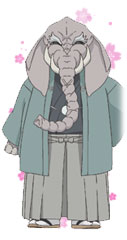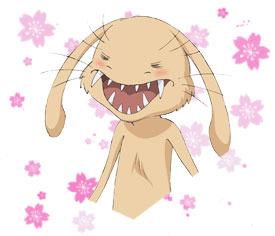 Mamezo
Voiced by: Nobuhiko Okamoto
He is Zakuro's artifact spirit. He has a cheerful personality and likes to pick on Kei. Mamezo stores Zakuro's sword within himself, which can be regurgitated as needed for battle.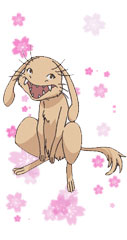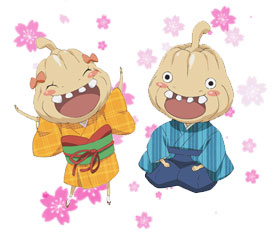 Kiri & Sakura
Voiced by: Mutsumi Tamura & Yuka Iguchi
They are two young, playful spirits. Sakura stores Susukihotaru's weapon while Kiri stores both Bonbori's and Hozuki's weapons. They have a strong attraction to Kei, who they tend to use as their playtime partner.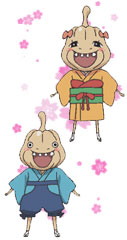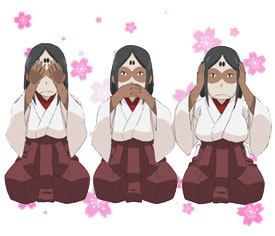 Mitsumasu, Mitsuogi, & Mitsubaicho
Voiced by: Chiyako Shibahara, Misaki Sekiyama, & Kimiko Saito
The trio of spirits that handle all the daily chores in the Ministry of Spirit Affairs. They enjoy rumors and gossip, as well as keeping tabs on the romantic goings-on within Spirit Affairs.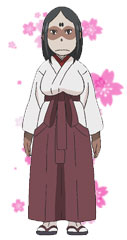 Staff
Original Comic
Lily Hoshino
(GENTOSHA COMICS INC.)
Director
Chiaki Kon
Series Composition
Mari Okada
Character Design
Shinya Hasegawa
Prop Design
Satomi Higuchi
Art Directors
Hiroshi Kato
Izumi Yasuki
Color Design
Yukiko Ito
Director of Photography
Yoshio Okouchi
Editor
Shigeru Nishiyama
Music
Masaru Sugimoto
Sound Director
Jin Aketagawa
Animation Production
J.C.STAFF
Produced by
Zakuro project
Cast
Zakuro
Mai Nakahara
Kei Agemaki
Takahiro Sakurai
Susukihotaru
Kana Hanazawa
Bonbori
Aki Toyosaki
Hozuki
Yui Horie
Riken Yoshinokazura
Satoshi Hino
Ganryu Hanakiri
Yuki Kaji
Mamezo
Nobuhiko Okamoto
Takatoshi Hanadate/Omodaka
Takayuki Kondo
Kushimatsu
Kazue Komiya
Amaryoju
Akihiko Ishizumi
Sakura
Yuka Iguchi
Kiri
Mutsumi Tamura
Rangui
Kikuko Inoue
Byakuroku
Haruka Tomatsu
Daidai
Minako Kotobuki

Opening Theme

Moon Signal
Sphere
© GloryHeaven
Ending Theme
Hatsukoi wa Zakuro-iro
(First Loves are Pomegranate-Colored)
Zakuro (Mai Nakahara)
Kei Agemaki (Takahiro Sakurai)
Junjou Masukareido
(Innocent Masquerade)
Bonbori (Aki Toyosaki)
Hozuki (Yui Horie)
Ganryu Hanakiri (Yuki Kaji)
Futari Shizuka
(The Gentle Two)
Susukihotaru (Kana Hanazawa)
Riken Yoshinokazura (Satoshi Hino)